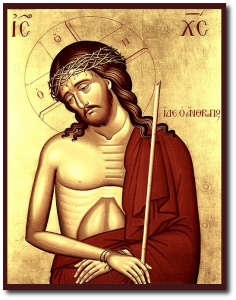 Great and Holy Saturday, Troparia, Tone II —
Noble Joseph … When Thou, the Deathless Life, didst go down to death, then didst Thou slay hell by the lightning flash of Thy Divinity. And when Thou didst raise the dead from the lower world, all the Powers of Heaven cried aloud: Christ our God, Giver of Life, glory to Thee. The Angel…
Kontakion, Tone II —
He Who closed the abyss is seen as dead and wrapped in a shroud and spices; He, the Immortal, as mortal is laid in the tomb; women came to anoint Him, and they wept bitterly and exclaimed: This is the ever-blessed Sabbath on which Christ, Who fell asleep, shall rise on the third day.