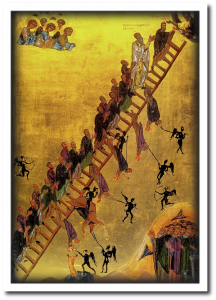 The Fourth Sunday of Great Lent: Venerable John Lestvichnik, Troparion, Tone I —
Thou didst prove to be a freeman of the desert, an angel in a body, and a wonder-worker, O our God – bearing Father John. By fasting, vigil and prayer thou didst obtain heavenly gifts, and thou healest the sick and the souls of those who have recourse to thee with faith. Glory to Him Who gave thee strength, glory to Him Who crowned thee, glory to Him Who works through thee healings for all.
Kontakion, Tone I —
Offering ever-blossoming fruits of learning from thy book, O wise one, thou delightest the hearts of those who study it seriously, O blessed one. For it is a ladder which leads up from the earth to the heavenly and abiding glory souls who with faith honour thee.
Troparion of the Sunday, Tone IV —
When the women disciples of the Lord learned from the angel / the joyous message of Thy resurrection, / they cast away the ancestral curse / and elatedly told the Apostles: / Death is overthrown! / Christ God is risen, / granting the world great mercy!
Hymn to the Theotokos, Tone IV —
The mystery of all eternity, / unknown even by angels, / through you, O Theotokos, is revealed to those on earth: / God incarnate, by union without confusion. / He voluntarily accepted the cross for us, / by which He resurrected the first-created man, / saving our souls from death.
Kontakion of the Sunday, Tone IV —
My Savior and Redeemer as God rose from the tomb and delivered the earthborn from their chains. He has shattered the gates of hell, and as Master, He has risen on the third day!
St. James the Confessor, Bishop of Catania —
No Troparion is given in the Menaion.
Kontakion —
No Kontakion is given in the Menaion.